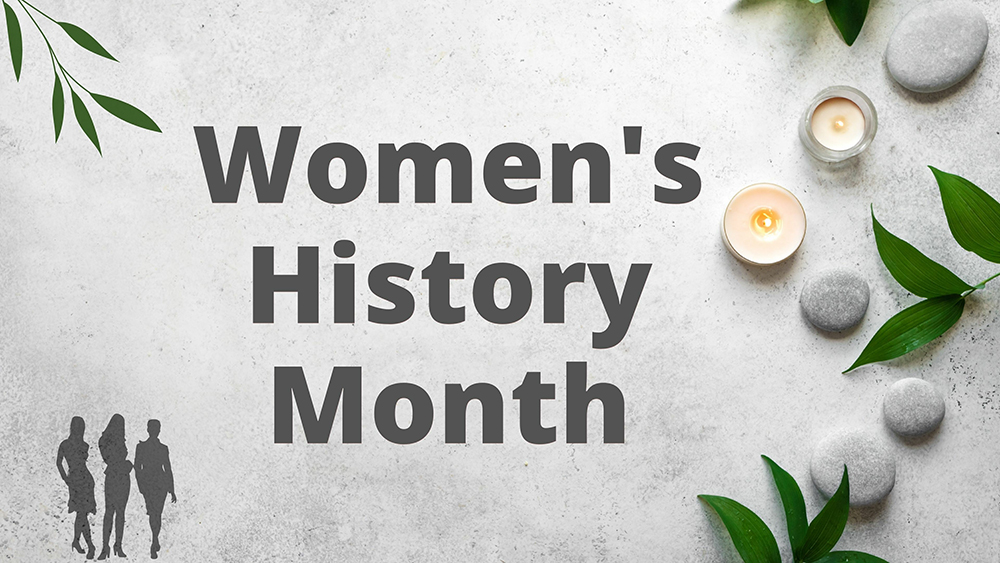 Women's History Month is an important time to celebrate and learn. It gives us a chance to look back at the struggles of women so that we can all keep moving forward as a society. The National Women's History Alliance releases a theme to the public each Women's History Month. "Celebrating Women Who Tell Our Stories" is the theme for 2023. How can you celebrate this year? Let's look at some ideas.
History of Women's History Month

The vast majority of ancient cultures were matrilineal, if not matriarchal; however, after religion was introduced, societies started to follow traditions that tended to devalue women and restrict their freedom. For the benefit of society and the women of the future, numerous brave women have taken the lead throughout the ages in the fight against inequality. Future generations of women are now able to pass through with less resistance thanks to their efforts to knock down obstacles and walls. Women's History Month honors these women.
While not yet universally recognized, some of the earliest indications of this movement for women's equality date back to the early 1900s, during a time of unrest and controversy surrounding the inequality and oppression of women. The majority of women's events and celebrations used to take place in February, but they eventually moved to March, which is now recognized as Women's History Month.
Women were undoubtedly still not treated equally even after they were granted the right to vote in many Western nations at the beginning of the 20th century. Many women were unhappy with the idea of returning to wearing aprons at home after their labor and dedication during World War II. They desired more, and many of them began to express their desire.
The women's movement of the 1960s focused even more attention on women's issues and demonstrated that women's historical contributions had been completely overlooked. As historian and activist Gerda Lerner said in 1986, "When I started working on women's history about thirty years ago, the field did not exist. People didn't think that women had a history worth knowing."
Lerner's pioneering work was responsible for the introduction of Women's Studies programs into the university education system, and remarkable contributions by incredible women are now part of history.
The United Nations officially recognized International Women's Day in 1975. Women's History Week was a step forward, and Women's History Month is an even greater extension. Throughout the month, a variety of community events, internet blog series, television presentations, and entertainment specials are held to reflect on women's accomplishments, celebrate global progress, and remind us that there is still work to be done.
This Years Theme
Women's History Month 2023 celebrates the theme "Celebrating Women Who Tell Our Stories" and gives recognition to women from all racial backgrounds who have been instrumental in the telling of our communities' stories.
Women have worked tirelessly to capture and preserve the stories of our past and present, from film directors to photographers, writers to musicians. In 2023, we will honor the many women who have contributed to the collective story.
We acknowledge the contributions made by Ava DuVernay, the first black woman to be nominated for a Golden Globe for her work on the television series "Queen Sugar" and her Academy Award-nominated documentary "13th." We honor Issa Rae's accomplishments as a writer for numerous television and motion picture projects as well as the creator and star of her own HBO series, "Insecure." We celebrate the work of writers such as Chimamanda Ngozi Adichie, the critically acclaimed author of "Americanah," and Toni Morrison, one of the most influential African-American writers of all time.
We recognize the work of photographers such as LaToya Ruby Frazier and Carrie Mae Weems, who have used their cameras to preserve and document African-American communities' experiences. We also honor the work of music producers like Missy Elliott, who used their talent to create hit songs that influenced the music industry.
How to Celebrate Women's History Month
Some suggestions for individual celebrations of Women's History Month include:
Learn About Women's History Through Books
Reading about the lives of female pioneers gives you a glimpse into the history of women who changed the world. Consider Amelia Earhart, one of the first ladies of aviation who paved the way for women in the flight industry, or suffragettes like Ida B. Wells, Marie Louise Bottineau Baldwin (Metis/Turtle Mountain Chippewa), Dr. Mabel Ping-Hua Lee, Nina Otero-Warren, and Susan B. Anthony.
Or, pick up one of these important books about women:
Women in Science: 50 Fearless Pioneers Who Changed the World' by Rachel Ignotofsky. Featuring notable women in the STEM field (where women are less often noted or appreciated) from ancient to modern times.
My Own Words by Ruth Bader Ginsburg: This autobiography reveals the story behind the pursuit of women's rights as well as being only the second woman ever to be appointed to the Supreme Court of the United States of America.
Hidden Figures by Margot Lee Shetterly: Based on the account of three African American women who were NASA mathematicians in the 1960s, this book has been made into a major film.
Get Involved with Women's Education and Rights
Have you been meaning to get involved for a while? Women's History Month is an excellent time to begin volunteering at a local organization that assists women in a variety of ways. Now is the time to get involved, whether through the Helen Keller Foundation for medical care or the National Women's Law Center for women's rights.
Those who are unable to volunteer should consider making a donation to a women's education organization, a microbusiness loan program for women, or another organization that promotes women's equality.
Watch Films About Women's History
Here are some empowering films/series that tell the stories of women who have made significant contributions to society:
Self Made: Inspired by the Life of Madam C. J. Walker (2020):
The true story of entrepreneur Madam C.J. Walker, who built a haircare empire that made her the first female African American self-made millionaire
Anne Frank Remembered (1995): This documentary film uses interviews and updated information to fill in the important story of Anne Frank, whose Jewish family went into hiding in an attic for more than two years during World War II.
I Am Greta (2020): I Am Greta chronicles the remarkable story of teenage climate change activist Greta Thunberg. The documentary is an intimate look at Thunberg's one-person school strike for climate action outside the Swedish parliament. We also see a little of her life as a shy student with Asperger's.
Share with Others About Women's History
One of the most important things about Women's History Month is the collaboration that can be found when people work together for a cause, as seen in the women's suffrage movements. Take this month to share thoughts and discussions with others about how everyone can support the cause.
Get a book club together to read one of the books above, or post a link about a most-admired woman in history on various social media outlets. Whatever way it is celebrated, Women's History Month is the perfect reminder to get active in the plight of women all over the world.
MCR's Focus on Women
MCR Health is committed to commemorating and honoring Women's History Month. We work hard to recognize and celebrate women's achievements and contributions, both past and present. This month is an important time to recognize and celebrate women's accomplishments and contributions to society. MCR Health is committed to promoting this Women's History Month theme by sharing the incredible stories of MCR family members who have been trailblazers in their own right. In the coming days, we will highlight a few of their stories.