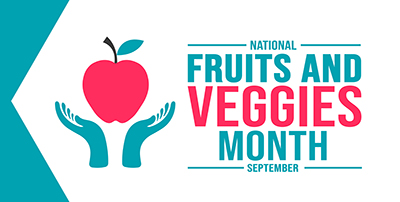 As the calendar turns to September, MCR Health is excited to join the nation in celebrating National Fruit and Vegetable Month. This observance isn't just a time to revel in the bountiful harvests of nature; it's a crucial reminder of the paramount significance of incorporating fruits and vegetables into our daily diets. With an unwavering commitment to your health and wellbeing, MCR Health is thrilled to shed light on the observance of this month and share the myriad benefits of embracing a diet rich in nature's colorful treasures.
The Why Behind National Fruit and Vegetable Month
National Fruit and Vegetable Month is an annual event that serves as a dedicated platform to raise awareness about the pivotal role fruits and vegetables play in maintaining a healthy lifestyle. The primary goal is to encourage individuals, families, and communities to increase their consumption of these nutrient-packed foods. Fruits and vegetables are not only delectable but are also brimming with essential vitamins, minerals, and fiber that contribute to overall health and disease prevention.
The Importance of Fruits and Vegetables in a Healthy Diet
Fruits and vegetables are the cornerstones of a balanced diet. They provide an array of health benefits that contribute to a well-functioning body and mind. Rich in vitamins A and C, potassium, and dietary fiber, they aid in maintaining healthy blood pressure, reducing the risk of chronic diseases, boosting immunity, and promoting digestion. The vibrant colors of these foods signify a diverse range of nutrients that work synergistically to support various bodily functions.
Observing National Fruit and Vegetable Month
There are numerous ways to actively participate in National Fruit and Vegetable Month and celebrate the goodness these foods offer:
Diverse Recipes:

Challenge yourself to create colorful and imaginative recipes that incorporate a variety of fruits and vegetables. From vibrant salads to mouthwatering smoothies, there are countless options to explore.
Educational Workshops:

Attend workshops or webinars that provide insights into the nutritional benefits of different fruits and vegetables, along with cooking tips and tricks.

Community Gardens:

Join or initiate a community garden project to cultivate fresh produce locally. Engaging in gardening is not only therapeutic but also yields the satisfaction of nurturing your own food.
Farmers' Market Visits:

Support local farmers and businesses by visiting farmers' markets. Explore the seasonal offerings and discover unique produce that you might not find at your regular grocery store.
Family Challenges:

Involve your family in a fun challenge to eat a certain number of servings of fruits and vegetables each day. Make it a friendly competition to encourage participation.
MCR Health's Dedication to Your Wellbeing
At MCR Health, we stand steadfast in our commitment to providing comprehensive healthcare solutions that encompass not only medical treatments but also preventative measures that promote wellbeing. As part of our dedication to your health, we're excited to announce the upcoming MCR Health Fair, scheduled for September 16th, 2023, from 10am to 2pm. This event will offer an array of FREE screenings including dental, vision, blood pressure, blood sugar, and health education at the Turner Agri-Civic Center located at 2250 NE Roan St., Arcadia, FL 34266.
The MCR Health Fair will not only provide essential health screenings but will also feature:
● Live Music from Country, Reggae, and Latin Live Bands
● COVID-19 Vaccines
● Entertainment, Face Painting, and Activities for all ages
● Free Haircuts
● First Aid Kits
● Mammograms
● Free Refreshments and Healthy Food
● Food Trucks for a delicious culinary experience
● Kids Activities and Free Backpacks (*while supplies last)
This event encapsulates MCR Health's dedication to holistic health, preventive care, and community engagement. We invite you to join us in this celebration of health, where learning, entertainment, and wellness harmoniously come together.
For more information about the MCR Health Fair, feel free to contact us at 855-253-9098. Together, let's embrace National Fruit and Vegetable Month as a stepping stone towards a healthier and happier life.