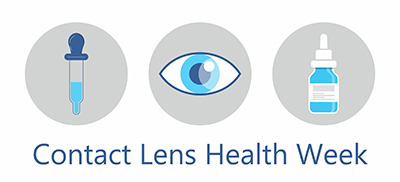 At MCR Health, we believe in the importance of clear vision and maintaining eye health. That's why we're excited to participate in Contact Lens Health Week, an annual event dedicated to raising awareness about the proper care and maintenance of contact lenses. This year, Contact Lens Health Week takes place from August 20th to 24th, and we want to share some crucial information to help you keep your eyes healthy and your vision crystal clear.

What is Contact Lens Health Week?
Contact Lens Health Week is an annual event dedicated to raising awareness about the importance of proper contact lens care and hygiene. It's a reminder for all of us who rely on contact lenses to see the world clearly that responsible lens wear and care habits are essential for maintaining healthy eyes.
Why is Contact Lens Health Important?
Using contact lenses can be a game-changer in terms of convenience, comfort, and aesthetics. However, if not used and cared for properly, they can also lead to discomfort, eye infections, and other complications. That's why this week is all about sharing essential tips and practices to keep your eyes safe and healthy while enjoying the benefits of contact lenses.
Top Tips for Contact Lens Health:
Wash Your Hands: Before handling your contact lenses, always wash your hands with soap and water. This helps prevent the transfer of dirt and bacteria from your fingers to your eyes.

Follow the Recommended Replacement Schedule: Whether you use daily, bi-weekly, or monthly lenses, it's crucial to follow the recommended replacement schedule. Overusing lenses can lead to discomfort and potential eye infections.

Use Approved Lens Solutions: Only use cleaning and disinfecting solutions recommended by your eye care professional. Never use tap water, saliva, or homemade solutions to clean your lenses.

Clean Your Lens Case: Regularly clean and replace your contact lens case to prevent the buildup of harmful bacteria. Let it air dry between uses and replace it every three months.

Remove Lenses Before Sleeping: Sleeping with your contact lenses in can increase the risk of eye infections. Always remove your lenses before bedtime unless they are specifically designed for extended wear.

Regular Eye Exams: Scheduling regular contact lens exams is crucial for your eye health. Your eye care professional can ensure that your prescription is up-to-date and that your lenses are fitting comfortably.
Schedule Your Contact Lens Exam:
To celebrate Contact Lens Health Week, we encourage you to take the first step towards maintaining your eye health by scheduling a contact lens exam with our experienced optometrists at MCR Health. Our team is here to provide you with comprehensive eye care, ensuring your contact lenses are the perfect fit for your eyes and lifestyle. Schedule your appointment today!
MCR Health's Commitment to Care:
During Contact Lens Health Week, let's come together to prioritize our eye health and ensure we're using contact lenses safely and responsibly. By following the tips mentioned above and scheduling regular contact lens exams, we can enjoy the benefits of clear vision while minimizing the risk of complications.
At MCR Health, we're committed to providing you with the best eye care possible. Schedule your contact lens exam today, and let's celebrate this week by taking a step towards healthier eyes and clearer vision!
Here's to seeing the world through healthy eyes!