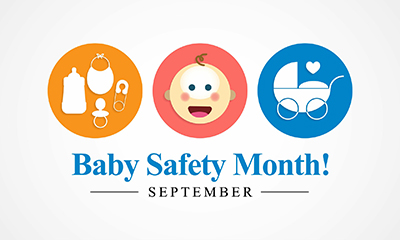 September is here, and with it comes a time of heightened awareness and education about the safety and well-being of our tiniest treasures—our babies. At MCR Health, we understand that nothing is more important than the health and safety of your little ones. That's why we're thrilled to celebrate Baby Safety Month with you and share some essential tips and information to keep your baby safe and sound.
Understanding the Importance of Baby Safety
Welcoming a new member into your family is an incredibly joyful experience, but it also comes with an array of new responsibilities, one of which is ensuring your baby's safety. Infants and toddlers are naturally curious and can be surprisingly quick, making it essential to create a secure environment for them. Baby Safety Month provides an excellent opportunity to revisit safety practices and make necessary adjustments to protect your child from potential hazards. The following are some precautions you can take to ensure your baby's safety and well-being:
Creating a Safe Sleep Environment: A significant portion of a baby's early life is spent sleeping, making it essential to create a safe sleep environment. Ensure your baby sleeps on a firm and flat mattress, free from soft bedding, pillows, stuffed animals, and bumper pads. Always lay your baby on their back to reduce the risk of Sudden Infant Death Syndrome (SIDS). Make sure the crib meets safety standards and has properly spaced slats to prevent entrapment.
Childproofing Your Home: Babies are naturally curious, and their exploration can sometimes lead them into potentially hazardous situations. Take the time to childproof your home by securing heavy furniture to the wall, using safety gates to block off stairways and dangerous areas, and covering electrical outlets. Keep small objects, choking hazards, and toxic substances out of your baby's reach.
Safe Bathing Practices: Bath time is a joyful experience, but it's crucial to practice safety during this routine. Never leave your baby unattended in the bath, even for a moment. Test the water temperature to ensure it's not too hot, and always place your hand in the water to gauge its comfort level. Keep all bathing supplies within arm's reach so you never have to leave your baby's side.
Proper Use of Car Seats: Car seats are a non-negotiable safety item when it comes to traveling with your baby. Make sure your baby's car seat is appropriately installed in the back seat of your vehicle, facing the rear until they meet the weight and height requirements for forward-facing seats. The car seat should be securely strapped in, and your baby should be buckled in snugly every time you hit the road.
Health and Hygiene: Maintaining your baby's health and hygiene is an integral part of safety. Wash your hands before handling your baby, and encourage others to do the same. Keep your baby's environment clean and free from germs. Regularly clean and disinfect toys, feeding equipment, and surfaces that your baby comes into contact with.
Caring for Your Baby's Skin: Your baby's skin is delicate and requires special attention. Use mild, fragrance-free baby products to avoid skin irritation. Be mindful of sun exposure, and keep your baby's skin protected with appropriate clothing and baby-safe sunscreen if they're over six months old.
Prioritize Regular Pediatric Appointments
While celebrating Baby Safety Month is important, ensuring your baby's safety and health requires ongoing commitment. One of the most crucial steps you can take is to maintain regular pediatric appointments. These appointments are vital for monitoring your baby's growth, development, and overall well-being.
We encourage you to schedule your next pediatric appointment now to stay ahead of your baby's healthcare needs. Our team of experienced pediatricians is dedicated to providing the best care possible, and we're here to support you every step of the way.
MCR Health's Commitment to Care
At MCR Health, we are committed to the well-being of your family. Baby Safety Month serves as a reminder of our ongoing dedication to providing the highest quality healthcare services for mothers, infants, and children. From prenatal care to pediatric services, we are here to ensure that your journey through parenthood is filled with knowledge, support, and the utmost care.
As we celebrate this special month, let's come together as a community to prioritize the safety and health of our little ones. 
Join Us for the Grand Opening and Community Baby Shower!
We're excited to invite you to a special event that marks not only the spirit of Baby Safety Month but also the expansion of our services. Mark your calendars for our Grand Opening and Community Baby Shower, taking place on September 23, 2023, from 11 AM to 2 PM. Join us at our brand-new location:
MCR Health Cortez OB/GYN & Pediatrics
3501 Cortez Rd, Suite 1
Bradenton, FL 34205
This event promises to be a delightful occasion for expectant mothers, new parents, and families alike. The Grand Opening will give you an exclusive look at our state-of-the-art facilities and the comprehensive care we provide for both obstetrics and pediatrics. It's also a wonderful opportunity to meet our dedicated team of healthcare professionals and ask any questions you might have. 
As part of the celebration, we're hosting a Community Baby Shower. There will be interactive sessions on baby safety, demonstrations of proper infant care techniques, and engaging activities for children. In addition, expectant mothers will receive a *special gift. It's not only a chance to learn but also to connect with other parents in the community.
*While supplies last. Expectant mothers must be present to receive gift.